MODERE AXIS OPTIPACK™
Health & Wellness | Axis
Product Overview
If your health is a priority, your kitchen counter might host an
assortment of supplements you use on a regular basis. But did you
know that if your vitamin regimen isn't biologically integrated, you
could be missing out on crucial nutrients?

Modere Axis OptiPack™ is more than your average vitamin regimen.
It's daily bioceutical nutrition for optimal health.™

Axis OptiPack is scientifically formulated with researchrecommended amounts of 30 crucial nutrients shown to be highly
bioavailable and bioactive. Each packet delivers biologically
integrated vitamins, minerals, antioxidants, adaptogens, herbs,
digestive enzymes and sustainably sourced omega for a wide array
of noticeable benefits.*

Product Benefits
• Reinforces major body systems: cardiovascular, nervous, immune,
digestive, skeletal and endocrine*
• Optimizes daily nutrition critical to wellness*
• Supports heart health*
• Supports brain and cognitive health*
• Supports stress management*
• Supports energy and vitality*
• Supports immune function*
• Supports antioxidant capacity*
• Supports gut and digestive health*
• Supports efficient nutrient absorption*
• Supports thyroid function*
• Supports liver health*
• Supports bone health*
• Supports healthy vision*
• Supports healthy skin*

Product Details
Optimal nutrition is a critical factor in a healthy microbiome —
your master switch to wellness. Modere Axis OptiPack™ delivers
bioceutical nutrition in a synergistic daily routine of 4 key formulas:
MULTIVITAMIN, ANTIOXIDANT/ADAPTOGEN, VITALITY COMPLEX
and OMEGA COMPLETE.

Key Ingredients
• Vitamins A, C, D3, E, K2 and
B complex
• Red Orange Complex®
• Ashwagandha
• Digestive enzyme blend
• Calcium fructoborate
• Holy basil
• Superba2™ Krill oil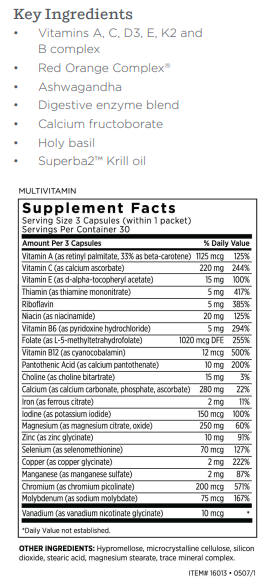 MULTIVITAMIN provides highly bioavailable vitamins and minerals,
including excellent sources of vitamins A, C, E and B complex, calcium,
magnesium and zinc, to optimize daily nutrition and support heart,
brain, immune and thyroid health while helping optimize energy
production.*

ANTIOXIDANT/ADAPTOGEN features Red Orange Complex® with 3
types of Sicilian blood oranges, clinically shown to reduce oxidative
stress and support healthy skin. It also contains antioxidant vitamin
C and citrus bioflavonoids to support immune health. Meanwhile,
adaptogens ashwagandha, schisandra and American ginseng help
reduce occasional stress.*

VITALITY COMPLEX delivers potent, bioavailable herbs like cinnamon
and holy basil along with a blend of digestive enzymes to help optimize
nutrient absorption. VITALITY is also an excellent source of the bonesupporting vitamin D3, plus K2 and plant-based calcium fructoborate.
For individuals whose glucose is already within normal range, it helps
maintain healthy glucose levels.*

OMEGA COMPLETE contains 100% certified sustainably sourced
Superba2™ Krill oil, a single source of essential EPA, DHA, astaxanthin,
choline and phospholipids that support heart health, brain and cognitive
health, liver health, vitality and healthy eyes and skin. OMEGA COMPLETE soft gels are easy to take and have no fishy odor
or aftertaste.*

Axis OptiPack is non-GMO, dairy-free, gluten-free and sugar-free.
Powerful on its own, when paired with Axis TreBiotic and Axis Phytos,
it supports wellness like you've never felt before.*

Directions/Usage
Take the contents of one (1) packet once daily with food.