Starting 8/25/2023,
Anyone who purchases any of the listed sku's for the Liquid BioCell Pet will receive a gift of one free Pet Tag with each sku.
Details:
This is a surprise/free gift insert, we are not sending notifications out!
1 free tag with each sku purchase (sku 61447 is for the Liquid BioCell Pet 12 pk – they only receive 1 FREE Pet Tag, NOT 12)
While supplies last
Because this is a free surprise gift… if someone receives a scratched Pet Tag or it is missing, we are NOT sending replacements!
No limits!  
Qualifying sku's:
US: 17979, 61712, 63312, 63313, 63318, 63319, 63320, 63321, 61447, 62364
CA: 17979CA, 61712CA, 63312CA, 63318CA, 63320CA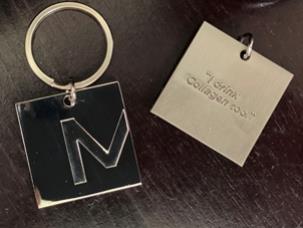 FAQ:
Q: How much Liquid BioCell® Pet should I give my cat or dog?
A: Depending on your pet's weight, give the amount that is listed on the bottle's label. For example, if
your dog weighs 25 lbs, he will need 4 mL per day, which means the bottle will last about one month.
The larger your pet weighs, the more he will need. Similarly, the smaller she is, the less she will need,
and a bottle could last for a couple of months. Please refer to the suggested dosage chart.
| | | |
| --- | --- | --- |
|   Body Weight |   Serving Size |   Servings per Container |
|   < 24 lbs |   2 ml/day |   60 |
|   25 - 49 lbs |   4 ml/day |   30 |
|   50 - 100 lbs |   6 ml/day |   20 |
|   100+ lbs |   8 ml/day |   15 |
Q: How do I give the Liquid BioCell® Pet to my cat or dog?
A: Liquid BioCell® Pet can be given to your pet directly in the mouth or mixed with their food or favorite treats.  The bottle includes a dropper that is marked with ml units. 
Q: Can people take Liquid BioCell® Pet?
A: Liquid BioCell® Pet was designed and formulated for pets and not for human consumption.
Q: What causes the change in appearance seen in the Liquid BioCell® Pet?
A: The variations being seen are due to natural variations found in the ingredients. Despite the difference, it is still safe to give to your pet.
Q: What clinical data supports the safety and efficacy of Liquid BioCell® Pet?
A: Liquid BioCell® Pet's key ingredient is Liquid BioCell®, the highly bioavailable form of BioCell® collagen, which is clinically researched, multi-patented nutraceutical ingredient.  It has been the subject of multiple double-blind clinical trials in the area of joint and skin health and published in peer-reviewed scientific journals.  Canine and feline joint cartilage composition is almost identical to that of the human articular matrix, which is the reason why our product is efficacious and safe for our pets.
Q: Can Liquid BioCell® Pet used for animals other than a dog or a cat?
A: Liquid BioCell® Pet is specifically formulated for dogs and cats.  We also have Liquid BioCell® Equine, a product specially formulated for horses, offering the same benefits as Liquid BioCell® Pet.